The World's First Water Bottle With A Magnetic Phone Mount
Compatible with any phone, iPad or tablet and works whether the bottle is empty or full!
Buy Now
Get 30% Off A 2nd Bottle
BPA-Free
Dishwasher-Safe
12 Hours Hot, 24 Hours Cold
Pro Grade Stainless Steel
Wide Mouth for Ice
Leak-Proof
Water Bottle, Tripod & Phone Mount, All-in-One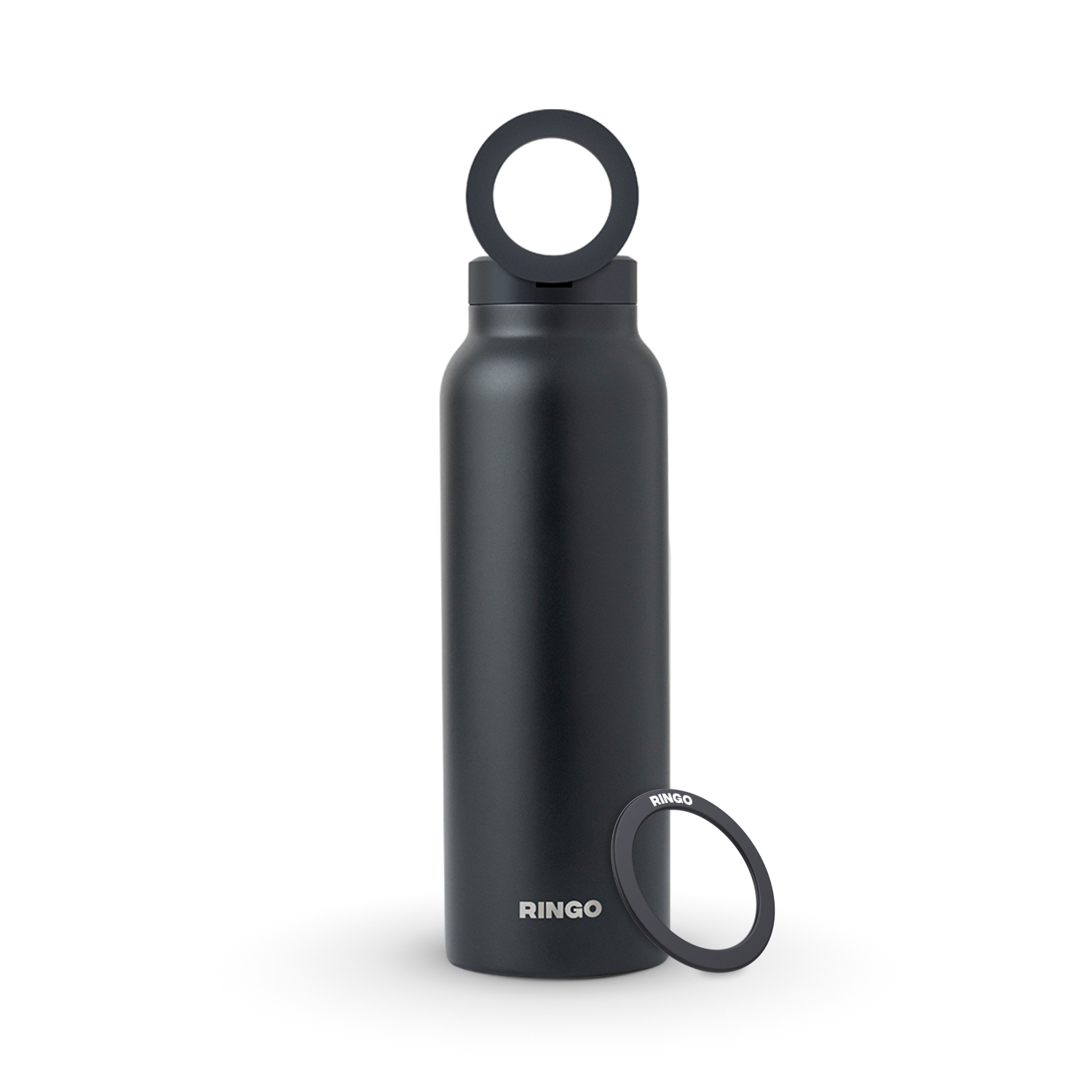 No iPhone? No Problem
Magnetic Booster Ring
If you don't have a MagSafe compatible phone or case, we developed a Magnetic Booster Ring that makes Ringo™ compatible with any device - including older iPhones, non-Apple phones, and even tablets like the iPad 12.9"!
Stay Hydrated, Stay Connected
Keep a Super Secure Hold On Your Phone While You Exercise
Looking for a way to take your workout to the next level? With Ringo, you can get the perfect angle to capture your moves or easily follow along to your favorite workout video.
Buy Now
Unlimited Ways To Use Ringo
(Seriously, you'll never put it down)
Easily Follow Along With Your Favorite Chefs
Watch Your Favorite Movies & TV Shows While Flying
Always Find the Best Angle to Record Your Routines
Do Your Makeup on the Go or Film a Makeup Tutorial
Turn Your Tablet Into An Extra Monitor
Extend Your Workspace, Double Your Efficiency. Transform your iPad or tablet into a secondary display. Efficient multitasking is no longer a dream; it's a reality with Ringo.
Just add a Magnetic Booster Ring to your order!
Easily Fit Your Navigation Right In Your Cup Holder
Video Chat With Friends & Family Hands-Free
Frequently Asked Questions
Does Ringo work when the bottle is empty?

Yes! Ringo was designed to work as a secure mount whether the bottle is empty or full. Even the regular 24oz bottle is stable enough to hold an iPad when the bottle is empty.

Is Ringo compatible with my device?

Yes, Ringo is compatible with ALL devices. We developed a Magnetic Booster Ring that you can attach to your device to make it magnetic. It's extremely strong & resilient and won't fall off. It's even strong enough to hold large tablets like the iPad 12.9"!

Whether or not you need a Magnetic Booster Ring depends on your device and/or if it has a MagSafe-compatible case.

Check out this chart to determine if you need one.

The Magnetic Booster Ring is not included, so you should add one to your order if you need one.

Can I use Ringo with my phone case?

Ringo is compatible with all MagSafe-compatible cases. If your phone case is not MagSafe-compatible, we designed a Magnetic Booster Ring that you can apply to any device or case to make it compatible.

The Magnetic Booster Ring is not included, so you should add one to your order if you need one.

Do I need a Magnetic Booster Ring?

Check out this chart to determine if you need one.

If you're still not sure, Contact us and we'll get back to you as soon as we can.

Is the Magnetic Booster Ring included?

No. Since Ringo uses MagSafe technology, a Magnetic Booster Ring isn't required for many users.

The Magnetic Booster Ring is an optional add-on for those that don't have MagSafe built-in to their phone or case.

Is Ringo dishwasher safe?

Yes! Ringo's bottle is made of premium double-wall vacuum-insulated stainless steel. It has a powder coating that is highly resistant - the same as all the other top-end brands, to ensure the product is scratch-proof, dishwasher-safe, and long-lasting.

The silver one does not have the powder coating - it has a fingerprint-proof glossy coating, and is just as scratch-proof, dishwasher-safe, and long-lasting as the other colors.

To keep your Ringo lid in the best shape, we highly recommend hand-washing it. It's only one piece - unlike other bottles that have multiple components that need to be separated for proper cleaning.

How long will Ringo keep my drinks hot or cold?

Ringo will keep your drink cold for 24 hours and hot for 12 hours thanks to its dual-wall vacuum-insulated stainless steel bottle.

What are Ringo's dimensions?

Ringo (Regular 24oz)

Height (with lid) - 24.3cm (~9.6in)
Height (without lid) - 21.2cm (~8.35in)
Diameter (top) - 61.8mm (~2.4in)
Diameter (bottom) - 78.6mm (~3.1in)

Ringo (Large 32oz)

Height (with lid) - 27.2cm (~10.7in)
Height (without lid) - 24.1cm (~9.49in)
Diameter (top) - 61.8mm (~2.4in)
Diameter (bottom) - 84.6mm (~3.3in)